Secure Payments
LUNA uses Stripe www.stripe.com for secure payment processing. Stripe uses best-in-class security tools and practices and is certified to PCI Service Provider Level 1, the most stringent level of certification available in the online payment industry.
Billing Portal
Stripe provides you with a secure and easy to use billing portal that allows you to:
Change your subscription billing plan from monthly to yearly, or vice-versa.
Schedule your subscription for cancelation at the end of your billing cycle.
Add and remove payment methods, or set a default payment method.
Keep your email and billing addresses current.
View and download your payment receipts, and to pay outstanding invoices.
Access Your Billing Portal
Login to your account if you're not already logged in.
[Desktop] Select your name from the upper-right of the screen or…
[Mobile] Select the "more" link (3 dots) from the upper-right of the screen.
A menu will display with a "My Account" link.
Select that link to view your account details.
Select the "Manage Subscription & Billing" button to open your billing portal.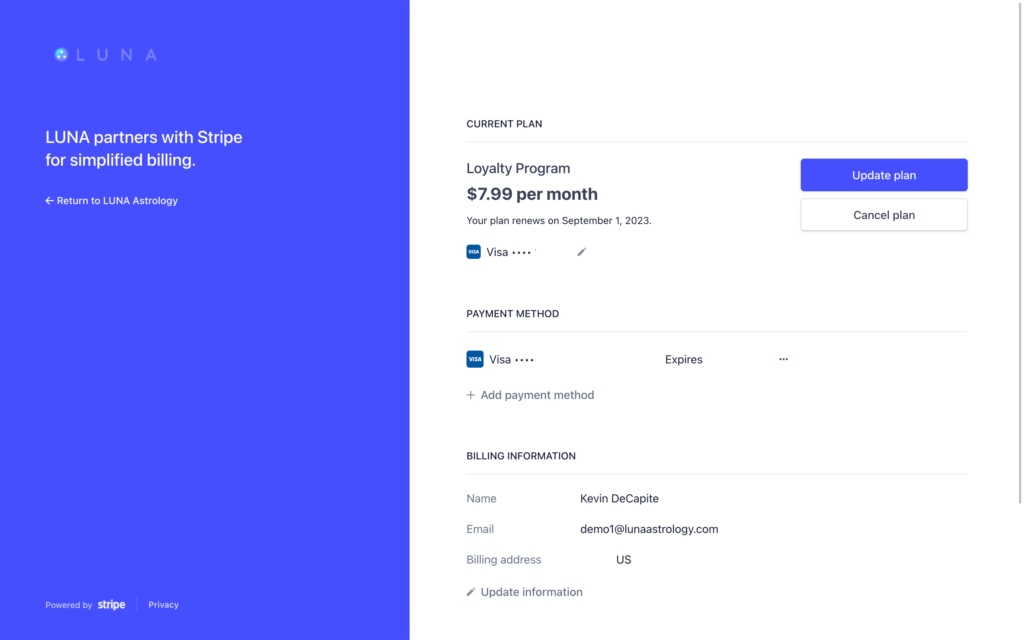 How do I delete my data?
When you cancel your subscription, or if your account becomes inactive due to lapsed payment, your data is not deleted. You can request your data to be deleted at any time by sending a support request.
Your data will be deleted from the LUNA database within 48-72 hours.
Your data may be retained in our secure backup location for up to 90 days after initial deletion. After the ninety (90) day data retention period, your data will be removed from the backup permanently and will be unrecoverable.